Meet Dr. Marcus Dunn
Chiropractic Chose Me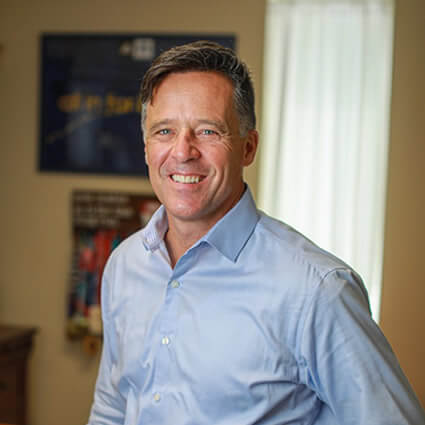 Dr. Dunn grew up in South Charleston, West Virginia. When you came into town, the sign read, "Chemical Center of the World." Surrounded by these chemicals, Dr. Dunn grew up with stress constantly on his body. At age 10, he was diagnosed with juvenile rheumatoid arthritis.
Despite his young age, he took medication every morning to ease his discomfort. He was plagued by chronic sinus infections and took various medications and antibiotics regularly to mask these issues. In junior high, he developed severe allergies.
At each turn, his family went the medical route to get help. By the time Dr. Dunn was in college, he had developed what is today known as IBS from all these stressors on his body. One morning, he woke up with his ear plastered to his shoulder, unable to move his neck. Dr. Dunn's dad suggested he see a chiropractor. Since his parents were paying, Dr. Dunn didn't see the harm in trying it out.
Learning About How the Body Truly Works
The chiropractor did an examination, then sat down to explain his findings to Dr. Dunn. He took the time to explain how the brain controls the body and needs a clear connection for everything to function as it should. "I went home and told my dad, 'I'm tired of taking drugs. Let's do this.'" After six months of regular care, all of Dr. Dunn's issues were gone. "Chiropractic is my total health care."
The decision to be a chiropractor wasn't officially made until Dr. Dunn and his wife were on their way to vacation in Florida. She wanted to get adjusted on the way out of town, so they went to her chiropractor's office. There, the chiropractor gave Dr. Dunn a couple of short, easy beach reads to take with-books about Dr. D.D. Palmer and Dr. B.J. Palmer, developers of chiropractic. After consuming them, Dr. Dunn knew it was what he wanted to do.
To earn a Doctor of Chiropractic, Dr. Dunn decided to attend Palmer College of Chiropractic in Davenport, Iowa. On his first day there, he was in a lecture hall where various members of the staff were speaking to the new students. One professor said, "For some of you, the happiest day of your life will be when you see Davenport, Iowa in your rearview mirror. But for the next three years, accept that this is your place." Dr. Dunn did just that, embracing Palmer and falling in love with the place.
Always eager to learn more, Dr. Dunn has taken a range of continuing education courses over his years in practice. He is Advanced Proficiency Rated in Activator Methods® and has been for decades. He is also an Associate Clinical Instructor in this method, teaching other chiropractors who want to learn the technique.
EXPLORE CHIROPRACTIC »
Staying Active
Dr. Dunn loves to run and is active in our local running community. He has completed 12 marathons (so far!). He loves to do home improvement projects such as landscaping and working in the yard. He takes an annual motorcycle adventure every year, going on his bike for a week with no reservations in place, stopping along the way when he feels like it.
He also volunteers as a coach for the nonprofit organizations Let Me Run and Beds for Kids. Additionally, Dr. Dunn is active in Rotary International® and his church.
In his spare time, Dr. Dunn likes to be with his family. His girlfriend, Raychelle, is also a runner who met Dr. Dunn at a marathon. She has two children, Ford and Lowery. Dr. Dunn has two daughters, Rachel and Lauren.
Get Started Today
Set up your complimentary, no-obligation consultation. Contact our office today!
---
Dr. Marcus Dunn | (704) 964-5496